We count on our volunteers to ensure the Fair is fun for all visitors. We need your help to volunteer for shifts so that the fair can go on!!
Please volunteer and help make the 2019 St. Aloysius Fair a huge success!
If you would like to volunteer, please click the SignUpGenius button below to let us know how and when you would like to help. Our volunteer coordinator will contact you to let you know what your assignment will be and to give you more information about your responsibilities. A reminder email will be sent out prior to the fair and sign-in forms will be available at each location for those requiring service hours! Thank you for your help in ensuring the success of the fair!
If you have questions, please contact Volunteer Coordinator Danielle Clapinski at dclapinski@gmail.com.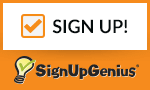 Please note that there are age restrictions for some of the sign-up shifts, please ensure that you are verifying that you are eligible for a shift. If you need to make any changes you can do so directly through sign-up genuis.